Photo Mint Tins:
New Categories!
Sports Theme Photo Mint Tins
(football, baseball, basketball, golf, ice hockey, soccer, skiing, cheerleading, bowling party, more)
Entertainment & Movie Theme Photo Mint Tins
(Oscar party, movie night, marquee, red carpet, guitar, piano, disco ball, city, casino, Las Vegas)
Beach & Luau Theme Photo Mint Tins
(tropical, flip-flops, cruise, mardi gras, fiesta, more)
CHRISTMAS Photo Mint Tins
Seasonal & Other Holiday Mint Tins
(autumn, winter, Halloween, Thanksgiving, New Year's, Valentine's Day, Easter, more)
Testimonials
What people are saying about Photo Party Favors

Fun & Free Stuff
♥
Party Recipes
appetizers dips salsa make-ahead buffet meals
♥
Free Printable Candy Bar Wrappers
♥
Birthday Birthstone Chart & Birth Month Flowers
♥
Anniversary Gifts By Month: Traditional & Modern
♥
Anniversary Quotes & Sayings
♥
Baby Quotes
& Sayings
♥
Birthday Quotes & Sayings (General)

Funny Birthday Sayings & One-Liners
♥
Christening Quotes & Sayings
♥
Christmas Quotes & Sayings (General)
♥
Christian Christmas Quotes & Verses
♥
Graduation Quotes & Sayings
♥
Thank You Quotes & Sayings
♥
Wedding Quotes & Sayings
♥
How to say "Happy Birthday" in other Languages
♥
How to say "I Love You" in other Languages
♥
How to say "Merry Christmas" in other Languages
♥
How to say "Thank You" in other Languages
♥
Fun Birthday Facts & Trivia
♥
Fun Wedding Facts & Trivia
♥
Free Printable Christmas Gift Tags
♥
Class Reunion
Quotes and Sayings


Extra FREE STUFF:
Party ideas & tips, Printables, - Recipes, Holidays, - Quotes, Coupons, - MORE!
for everyone who "likes"
Photo Party Favors on Facebook

www.photo-party-favors.com - Photo Party Favors - PLUS a whole lot more!
Cheeseburger Dip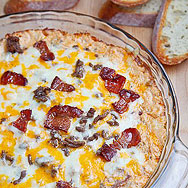 Ingredients

1/2 pound ground beef
6 strips bacon, cut into 1 inch pieces
1 small onion, diced
1 clove garlic, chopped
4 ounces cream cheese, softened
1/2 cup sour cream
1/4 cup mayonnaise
1/2 cup mozzarella, shredded
1/2 cup cheddar cheese, shredded
1 tablespoon worcestershire sauce
2 tablespoon ketchup
Optional: chopped tomatoes and lettuce for garnish

Directions

Cook the ground beef in a pan over medium heat until done, set it aside and drain the grease from the pan.

Cook the bacon in the pan until crispy, set aside and drain all but a tablespoon of the grease. Add the onion and saute until tender. Add the garlic and saute until fragrant, about a minute.

Mix the ground beef, bacon, onions and garlic, cream cheese, sour cream, mayonnaise, mozzarella, cheddar, worcestershire sauce and ketchup and pour it into a baking dish. Bake in a preheated 350 degree F oven until the top starts turning a light golden brown and the sides are bubbling, about 20-30 minutes.

Garnish with chopped tomatoes and shredded lettuce, if desired.

Serve with slices of toasted Italian bread or your favorite chips.





































































































All Designs Copyright - Photo Party Favors 1997-2012
You may not modify, publish, transmit, participate in the transfer or sale of, reproduce, create derivative works from, distribute, display, or incorporate our designs into another web site.