Magnet Categories
2x3 or 3x4 inch

Anniversary Photo Magnets

Baby & Birth Announcement Photo Magnets

Bat Mitzvah, Bar Mitzvah Photo Magnets

Birthday Photo Magnets

Kid's Birthday Photo Magnets

Christening, Communion & Other Christian Photo Magnets

Christmas Photo Magnets

Graduation Photo Magnets

Wedding & Save the Date Photo Magnets

Theme Party Magnets
(sports, luau, Hollywood, more)


Photo Mint Tins:
New Categories!
Sports Theme Photo Mint Tins
(football, baseball, basketball, golf, ice hockey, soccer, skiing, cheerleading, bowling party, more)
Entertainment & Movie Theme Photo Mint Tins
(Oscar party, movie night, marquee, red carpet, guitar, piano, disco ball, city, casino, Las Vegas)
Beach & Luau Theme Photo Mint Tins
(tropical, flip-flops, cruise, mardi gras, fiesta, more)
CHRISTMAS Photo Mint Tins
Seasonal & Other Holiday Mint Tins
(autumn, winter, Halloween, Thanksgiving, New Year's, Valentine's Day, Easter, more)


Testimonials
What people are saying about Photo Party Favors

"I just received my pocket size photo notebooks from you and am thrilled with how they came out. These little spiral notebooks are going to make great birthday party favors! Thanks for the wonderful job and great customer service."
; - Jaynee P.

"I ordered a dozen of these photo notebooks as a gift for my friend's birthday using a photo of her dog. She said it was one of the most thoughtful gifts she ever received. So, I'm back with photos of my kids as a gift for the grandparents." - Paula G.

"Your photo spiral notebook favors were the hit of my daughter's bat mitzvah. All her friends loved them. It's such a unique idea and you did an excellent job." - Meredith L.

Fun & Free Stuff
♥
Party Recipes
appetizers dips salsa make-ahead buffet meals
♥
Free Printable Candy Bar Wrappers
♥
Birthday Birthstone Chart & Birth Month Flowers
♥
Anniversary Gifts By Month: Traditional & Modern
♥
Anniversary Quotes & Sayings
♥
Baby Quotes
& Sayings
♥
Birthday Quotes & Sayings (General)

Funny Birthday Sayings & One-Liners
♥
Christening Quotes & Sayings
♥
Christmas Quotes & Sayings (General)
♥
Christian Christmas Quotes & Verses
♥
Graduation Quotes & Sayings
♥
Thank You Quotes & Sayings
♥
Wedding Quotes & Sayings
♥
How to say "Happy Birthday" in other Languages
♥
How to say "I Love You" in other Languages
♥
How to say "Merry Christmas" in other Languages
♥
How to say "Thank You" in other Languages
♥
Fun Birthday Facts & Trivia
♥
Fun Wedding Facts & Trivia
♥
Free Printable Christmas Gift Tags
♥
Class Reunion
Quotes and Sayings






























































































































www.photo-party-favors.com - Photo Party Favors - PLUS a whole lot more!
Photo Notebook Party Favors
Custom Personalized Pocket Size Spiral Notepads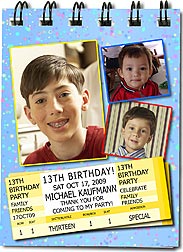 THIS PRODUCT CURRENTLY UNAVAILABLE.

Are you looking for truly unique photo party favors for your next special occasion? Then these pocket size spiral photo notebooks are showstoppers.

Whether you're throwing a birthday party for your child or planning a 50th wedding anniversary party, these photo favors will appeal to your guests of all ages. We combine your photo or photos with your personalized message to create one of a kind photo spiral notebooks for your party. You can be sure that these mini notepads are something your friends and loved ones will use and enjoy.

But you don't have to limit yourself to just using these as photo party favors. Personalized spiral photo notebooks make imaginative, thoughtful gifts. We have a low minimum of 10, using the same photo, design and message, so it's inexpensive, too. Photo notepads with pictures of your kids would make great gifts for the grandparents, aunts, uncles and other relatives. Don't forget to keep a few for yourself!

Each photo notebook favor is 3 inches wide by 4 inches high, filled with 30 bright white, unlined sheets, backed with chipboard and we bind it together with a black metal spiral. The covers are made of actual photos imprinted on heavyweight photo paper (10.5 mil). The chipboard backing is brown kraft color on the inside and white on the outside of the photo notebook. They are the perfect size to slip in your pocket or purse, yet they are still large enough for notes, sketches, ideas and more. Choose one of our original designs created by our artists and not found anywhere else. Or we can just use your photo to fill the whole cover with simple personalization.



Photo Notebook Party Favor Designs Start Here:

Filmstrip Photo Notebook ©
Email us 3 of your favorite photos & personalization.
Great for ANY occasion (birthday, graduation, anniversary, etc.)


Stars Photo Notebook ©
Email us 3 of your favorite photos & personalization.
Great for ANY occasion.



Party Balloons Photo Notebook ©
Email us 1 favorite photo & personalization.Blue background, etc. available (pink shown)





Festive Party Photo Notebook ©
Email us 2 of your favorite photos & personalization. Great for birthdays for all ages.



Teddy Balloons Photo Notebook ©
Email us 1 favorite photo & personalization. Great for child's birthday. Pink background available (blue shown).

Tickets Photo Notebook ©
Email us 3 of your favorite photos & personalization. Great for ANY occasion (bar mitzvah, sweet 16, graduation, birthday)






Year You Were Born
Balloons Photo Notebook ©
Email us 1 of your favorite photos & personalization. Fun facts from the year of your birth.
More Year You Were Born Party Favors > >


Gold Rings Photo Notebook
Email us 2 of your favorite photos & personalization. © Great for anniversary or wedding




Bulletin Board Photo Notebook ©
Email us 2 of your favorite photos & personalization. Great for ANY occasion (graduation, bat mitzvah, birthday, sweet 16)





MORE PHOTO SPIRAL NOTEBOOK FAVORS DESIGNS > >
Jump to Page | 1 | 2 | 3 |
Some things to note:


The actual photo notebook is 3 inches wide by 4 inches high, small enough to fit in a shirt pocket, yet large enough for lots of notes or sketches.


The notebooks are bound together with a black metal spiral at the top.


Each notebook favor is filled with 30 sheets of bright white, unlined quality paper.


We always email you a proof of your photo notepads order within a couple of days of receipt, so that you may check it for accuracy, and we only send your favors order to production after we have received your approval.


You may use any of the designs for any occasion. For example, if you see a sample that is set up for birthday favors and you would like to use it for graduation party favors, we will adapt it.


Messages on above photo notebook favors are only suggestions. You may change the wording to create your own, personalized message. Look at the sample text used in the notepad of your choice as a guideline to how much text can be used for personalization.


Minimum order for our pocket size photo spiral notebook favors is 10 with one exception. On the Year You Were Born© photo notebooks, the minimum is 25.


One sample of a past photo notebook favors order (using a previous customer's photo & personalization) can be obtained if you send us $3.50 (made payable to Linda Kling), which will be refunded with your next order. You may specify which design sample you wish to receive. We do not offer "samples" using your photo and message.


All photos must be emailed to us at PhotoPartyFavors@aol.com. We do not accept photos that are sent to us by regular mail.


How Long Will It Take? Answers to that and other questions can be found on our Frequently Asked Questions page and Ordering Information page.
PRICES FOR PHOTO SPIRAL NOTEBOOK FAVORS
Minimum Order 10* (same photos/design/message)
Minimum Order for Year You Were Born notebooks is 25

10-49 notebooks
50-99 notebooks
100+ notebooks
$2.50 ea.
$2.25 ea.
$2.00 ea.
Shipping for Photo Notebook Favors:

10 - 150 notebooks, add $12.95

150+ please email us for exact shipping cost to your zip code

Shipping for Photo Notebooks is different from photo magnets, bookmarks, keyrings, etc. due to package weight.
HOW TO ORDER PHOTO FAVORS & INVITATIONS
EMAIL your high resolution jpg photo (or photos, if the design requires more than one) for photo spiral notebook favors to PhotoPartyFavors@aol.com. Please include your name, shipping address, phone number (in case we have any questions), what you're ordering, how many, the last possible date you need it by, the personalization desired, and confirmation that you have mailed (or will be mailing within the next 24-48 hours) your check made payable to Linda Kling.

IMPORTANT: If you are emailing a photo taken by a digital camera email it to us as it is - just as it was when it came out of the camera. It should be a jpg with the same file name the digital camera gave it. Don't rename the photo or do anything you think will improve it. Please do NOT do anything to edit, change, crop or resize the photo. Digital photos must be full size and unedited, taken by a 3 megapixel or higher camera. Photos taken by camera phone are not high enough quality for reproduction.

If you are scanning photos to email to us, please first wipe the dust off your scanner and photo. Make sure your photos are scanned at a minimum of 4 x 6 inches at 300 dpi and saved at the highest quality, lowest compression jpg. If someone scans a photo for you, please ask them to scan it at full size and at least 300 dpi. . If you don't know how to make sure your scanner is set to scan at 300 dpi, then click on the help file in your scanner software for instructions. Do not scan the entire scanning bed, but just the photo. Don't send us your photo as an image within a document (such as Word, WordPerfect, PowerPoint etc.), or as a pdf file, but only as a jpg image file.

Please send your photo or photos as an email attachment, and not in the body of the email itself (many email programs will resize photos to be smaller to fit inside the email). Your email program will have a button that says "attach" or "attachments" or a paper clip (in Outlook Express) or something similar. Click on that, navigate to where you have your photo stored, and click OK. If you're using Kodak Easy Share, make sure you select "original" when selecting the picture file size. If you're using Picassa, choose resize to "original size". If you have any questions, just let us know and we'll walk you through it.
Please send us photos that are clear, bright, and sharp, close-up with some background around face or faces (but not so close that part of the head or face is cut off). When 2 or more people are in the photo, make sure they're heads are close together. DO NOT send us blurry, grainy or dark photos. No copyrighted photos, without written permission, please!

DO NOT send us a link to your online photo gallery (such as Shutterfly, Kodak Gallery, etc). Athough these photos may look good on your monitor, their resolution is too low to print.

Please read the detailed information on choosing the right photos on our Frequently Asked Questions page.

Any questions or comments about our photo spiral notebook favors or photo party favors? Send us an e-mail at PhotoPartyFavors@aol.com. You can also check our FAQ page for answers to common questions.
Linda Kling and Steve Gendel
Photo Party Favors
19 Hutter Street
Saddle Brook, New Jersey 07663
Phone: 201-398-1408 (noon - 8 p.m. EST)
All Designs Copyright - Photo Party Favors 1997-2012
You may not modify, publish, transmit, participate in the transfer or sale of, reproduce, create derivative works from, distribute, display, or incorporate our designs into another web site.