Magnet Categories
2x3 or 3x4 inch

Anniversary Photo Magnets

Baby & Birth Announcement Photo Magnets

Bat Mitzvah, Bar Mitzvah Photo Magnets

Birthday Photo Magnets

Kid's Birthday Photo Magnets

Christening, Communion & Other Christian Photo Magnets

Christmas Photo Magnets

Graduation Photo Magnets

Wedding & Save the Date Photo Magnets

Theme Party Magnets
(sports, luau, Hollywood, more)


Photo Mint Tins:
New Categories!
Sports Theme Photo Mint Tins
(football, baseball, basketball, golf, ice hockey, soccer, skiing, cheerleading, bowling party, more)
Entertainment & Movie Theme Photo Mint Tins
(Oscar party, movie night, marquee, red carpet, guitar, piano, disco ball, city, casino, Las Vegas)
Beach & Luau Theme Photo Mint Tins
(tropical, flip-flops, cruise, mardi gras, fiesta, more)
CHRISTMAS Photo Mint Tins
Seasonal & Other Holiday Mint Tins
(autumn, winter, Halloween, Thanksgiving, New Year's, Valentine's Day, Easter, more)
Testimonials
What people are saying about Photo Party Favors

Fun & Free Stuff
♥
Party Recipes
appetizers dips salsa make-ahead buffet meals
♥
Free Printable Candy Bar Wrappers
♥
Birthday Birthstone Chart & Birth Month Flowers
♥
Anniversary Gifts By Month: Traditional & Modern
♥
Anniversary Quotes & Sayings
♥
Baby Quotes
& Sayings
♥
Birthday Quotes & Sayings (General)

Funny Birthday Sayings & One-Liners
♥
Christening Quotes & Sayings
♥
Christmas Quotes & Sayings (General)
♥
Christian Christmas Quotes & Verses
♥
Graduation Quotes & Sayings
♥
Thank You Quotes & Sayings
♥
Wedding Quotes & Sayings
♥
How to say "Happy Birthday" in other Languages
♥
How to say "I Love You" in other Languages
♥
How to say "Merry Christmas" in other Languages
♥
How to say "Thank You" in other Languages
♥
Fun Birthday Facts & Trivia
♥
Fun Wedding Facts & Trivia
♥
Free Printable Christmas Gift Tags
♥
Class Reunion
Quotes and Sayings






























































































































www.photo-party-favors.com - Photo Party Favors - PLUS a whole lot more!
Christening & Baptism Quotes and Sayings
Inspiration for Cards, Invitations, Toasts, Speeches & More.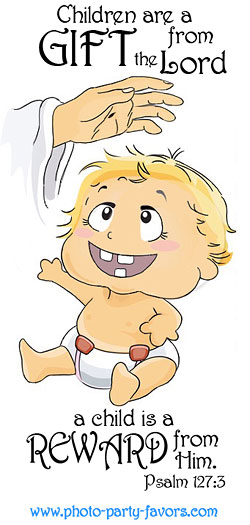 Children are a gift from the Lord, a child is a reward from Him. --The Bible, Psalm 127:3


Let the little children come unto Me, for the kingdom of God belongs to such as these. --The Bible, Luke 18:16


Whoever welcomes a child in My name, welcomes Me. --The Bible, Luke 9:46-48


I prayed for this child, and the Lord has granted what I asked of Him. --The Bible, 1 Samuel 1:27


Before I formed you in the womb, I knew you. Before you were born, I set you apart. --The Bible, Jeremiah 1:5


I have held thee in the palm of mine hand. --The Bible, Isaiah 51:16


Every good and perfect gift is from above. --The Bible, James 1:17


May the Lord give His angel charge over you, to guide you in all your ways. --The Bible, Psalm 91:11


Train a child in the way he should go, and when he is old he will not turn from it. --The Bible, Proverbs 22:6


And He took the children in His arms, put His hands on them and blessed them. --The Bible. Mark 10:16


This promise is to you, and to your children . . . all who have been called by the Lord our God. --The Bible, Acts 2:39


See that you don't look down on one of these little ones, because I tell you that in heaven their angels continually view the face of My Father in heaven. --The Bible, Matthew 18:10


How precious are your thoughts about me, O God. They cannot be numbered! I canít even count them; they outnumber the grains of sand! --The Bible 139:17-18


You are the One who put me together inside my mother's body, and I praise You because of the wonderful way You created me. Everything You do is marvelous! Of this I have no doubt. --The Bible, Psalm 139:13-14


You have been taught the holy Scriptures from childhood, and they have given you the wisdom to receive the salvation that comes by trusting in Christ Jesus. --The Bible, 2 Timothy 3:15


On this day we place our child in God's care forevermore.


A baby is a bit of stardust blown from the hand of God!


All of Godís grace in one little face.


Godís miracle ~ Our precious gift!


From Godís loving arms, to ours.


Our tiny miracle from God.


Every child born into the world is a new thought of God, an ever fresh and radiant possibility. --Kate Douglas Wiggins


A christening is the joyous beginning of a lifetime of loving and serving the Lord.


One tiny hand to guide and hold,
One tiny life to shape and mold;
each child, a gift from God above,
a symbol of His strength and love.


Twinkle, twinkle tiny light,
little eyes that shine so bright,
a precious baby from heaven above,
fills our hearts with so much love.


We bring them Lord, in thankful hands,
And yielding them up to Thee;
Joyful that we ourselves are Thine,
Thine let our off-spring be.
--John H. Gower


Don't forget to check out our:
Photo Christening & Baptism Invitations Photo Baptism Magnet Favors
Photo Christening Bookmark Favors
We also have photo mint tins and photo notebook favors available for christening & baptism.

Now, you can follow Photo Party Favors on Facebook and get even more FREE party stuff, available exclusively for our Facebook friends, including party recipes, quotes, trivia, articles, printable candy bar wrappers, more! "Like" us today!



We hope you will enjoy these christening and baby baptism quotes. The quotes and sayings are for your own personal inspiration and entertainment. We have tried to credit the author, whenever possible. If you are the author of one of these quotations and you would like us to include a credit (or even remove the quote), just let us know, and we will do so immediately.












































All Designs Copyright - Photo Party Favors 1997-2021