Magnet Categories
2x3 or 3x4 inch

Anniversary Photo Magnets

Baby & Birth Announcement Photo Magnets

Bat Mitzvah, Bar Mitzvah Photo Magnets

Birthday Photo Magnets

Kid's Birthday Photo Magnets

Christening, Communion & Other Christian Photo Magnets

Christmas Photo Magnets

Graduation Photo Magnets

Wedding & Save the Date Photo Magnets

Theme Party Magnets
(sports, luau, Hollywood, more)


Photo Mint Tins:
New Categories!
Sports Theme Photo Mint Tins
(football, baseball, basketball, golf, ice hockey, soccer, skiing, cheerleading, bowling party, more)
Entertainment & Movie Theme Photo Mint Tins
(Oscar party, movie night, marquee, red carpet, guitar, piano, disco ball, city, casino, Las Vegas)
Beach & Luau Theme Photo Mint Tins
(tropical, flip-flops, cruise, mardi gras, fiesta, more)
CHRISTMAS Photo Mint Tins
Seasonal & Other Holiday Mint Tins
(autumn, winter, Halloween, Thanksgiving, New Year's, Valentine's Day, Easter, more)
Testimonials
What people are saying about Photo Party Favors

Fun & Free Stuff
♥
Party Recipes
appetizers dips salsa make-ahead buffet meals
♥
Free Printable Candy Bar Wrappers
♥
Birthday Birthstone Chart & Birth Month Flowers
♥
Anniversary Gifts By Month: Traditional & Modern
♥
Anniversary Quotes & Sayings
♥
Baby Quotes
& Sayings
♥
Birthday Quotes & Sayings (General)

Funny Birthday Sayings & One-Liners
♥
Christening Quotes & Sayings
♥
Christmas Quotes & Sayings (General)
♥
Christian Christmas Quotes & Verses
♥
Graduation Quotes & Sayings
♥
Thank You Quotes & Sayings
♥
Wedding Quotes & Sayings
♥
How to say "Happy Birthday" in other Languages
♥
How to say "I Love You" in other Languages
♥
How to say "Merry Christmas" in other Languages
♥
How to say "Thank You" in other Languages
♥
Fun Birthday Facts & Trivia
♥
Fun Wedding Facts & Trivia
♥
Free Printable Christmas Gift Tags
♥
Class Reunion
Quotes and Sayings


Extra FREE STUFF:
Party ideas & tips, Printables, - Recipes, Holidays, - Quotes, Coupons, - MORE!
for everyone who "likes"
Photo Party Favors on Facebook

www.photo-party-favors.com - Photo Party Favors - PLUS a whole lot more!
How To Make Your Own Giant Chocolate Kiss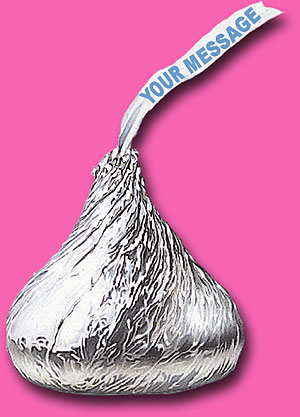 This is an easy, fun project for Valentine's day or any day that you want a simple sweet way to give someone a big kiss. You don't need a special chocolate mold. Just use a plastic funnel to make this giant chocolate kiss. Here's how:

WHAT YOU NEED


1 lb..chocolate melting wafers *
funnel (6 inches wide by 6 inches high)
HOW TO MAKE IT:
Prepare the funnel for the chocolate, by blocking the open bottom tip. You can use a miniature marshmallow, by pushing it into the tip (from the inside) until it's closed off. Or you can wrap aluminum foil around the outside of the tip to cover it and secure it in place with tape or rubber band.


Lightly spray the inside of the funnel (if desired) to make it easier to release chocolate kiss from mold. Set the funnel point-side down in a sturdy cup, such as a coffee mug or glass measuring cup. Add crumpled foil inside of the cup to keep funnel stable and upright if necessary.


Melt chocolate melting wafers in a double boiler or the microwave, stirring until smooth. Pour melted chocolate into funnel, filling it to the top.


Allow the chocolate to cool to room temperature, then refrigerate it until it is completely set (at least 5 hours, or overnight). You can store it outside of the refrigerator after it has set. For quicker results, you can put it in freezer to harden for approximately 45 minutes..


After it has completely set, it's time to unmold your chocolate kiss. To loosen the chocolate a bit, flex the plastic funnel slightly. Then, tap the bottom of the funnel on a plate and it should come right out of the mold.


Wrap the giant chocolate kiss by placing it on a square of foil and pulling all sides up to the top and giving it a twist. At this time you can add your message on white paper to stick out the top.
VARIATIONS:
Milk chocolate, dark chocolate, white chocolate - You can use any flavor or color.
Chocolate crunch - Add rice crispies
Rocky road - Add nuts and miniature marshmallows
Layered - Pour 1 layer of melted dark chocolate; let harden. Then pour 1 layer of melted white chocolate; let harden, alternating until you have filled the funnel.
Chunky - Add raisins and nuts

EXPERIMENT by adding your favorite ingredients to come up with your own combinations. Try toffee bits, craisins, peanuts, chopped oreo pieces, etc.
* Note about chocolate: We recommend using chocolate melting wafers (which are available in any craft store in the candy/cooking aisle) because they're easy to use and do not require the tempering that other chocolate does. But you can also use melted chocolate chips and candy bars, if you wish.


These tips can be used on your website, blog, ezine, etc. AS LONG AS YOU DO NOT MAKE ANY CHANGES AND INCLUDE A LIVE, CLICKABLE CREDIT AND LINK to http://www.photo-party-favors.com




Don't forget to check out our:
Personalized Photo Party Favors

All Designs Copyright - Photo Party Favors 1997-2021
You may not modify, publish, transmit, participate in the transfer or sale of, reproduce, create derivative works from, distribute, display, or incorporate our designs into another web site.