Magnet Categories
2x3 or 3x4 inch

Anniversary Photo Magnets

Baby & Birth Announcement Photo Magnets

Bat Mitzvah, Bar Mitzvah Photo Magnets

Birthday Photo Magnets

Kid's Birthday Photo Magnets

Christening, Communion & Other Christian Photo Magnets

Christmas Photo Magnets

Graduation Photo Magnets

Wedding & Save the Date Photo Magnets

Theme Party Magnets
(sports, luau, Hollywood, more)


Photo Mint Tins:
New Categories!
Sports Theme Photo Mint Tins
(football, baseball, basketball, golf, ice hockey, soccer, skiing, cheerleading, bowling party, more)
Entertainment & Movie Theme Photo Mint Tins
(Oscar party, movie night, marquee, red carpet, guitar, piano, disco ball, city, casino, Las Vegas)
Beach & Luau Theme Photo Mint Tins
(tropical, flip-flops, cruise, mardi gras, fiesta, more)
CHRISTMAS Photo Mint Tins
Seasonal & Other Holiday Mint Tins
(autumn, winter, Halloween, Thanksgiving, New Year's, Valentine's Day, Easter, more)
Testimonials
What people are saying about Photo Party Favors

Fun & Free Stuff
♥
Party Recipes
appetizers dips salsa make-ahead buffet meals
♥
Free Printable Candy Bar Wrappers
♥
Birthday Birthstone Chart & Birth Month Flowers
♥
Anniversary Gifts By Month: Traditional & Modern
♥
Anniversary Quotes & Sayings
♥
Baby Quotes
& Sayings
♥
Birthday Quotes & Sayings (General)

Funny Birthday Sayings & One-Liners
♥
Christening Quotes & Sayings
♥
Christmas Quotes & Sayings (General)
♥
Christian Christmas Quotes & Verses
♥
Graduation Quotes & Sayings
♥
Thank You Quotes & Sayings
♥
Wedding Quotes & Sayings
♥
How to say "Happy Birthday" in other Languages
♥
How to say "I Love You" in other Languages
♥
How to say "Merry Christmas" in other Languages
♥
How to say "Thank You" in other Languages
♥
Fun Birthday Facts & Trivia
♥
Fun Wedding Facts & Trivia
♥
Free Printable Christmas Gift Tags
♥
Class Reunion
Quotes and Sayings






























































































































www.photo-party-favors.com - Photo Party Favors - PLUS a whole lot more!
Fun Valentine's Day Facts and Trivia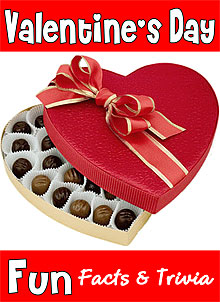 What was the origin of Valentine's Day?

Well, there are a few theories. The most popular one is set in 270 AD in the Roman Empire during the reign of Emperor Claudius II. He believed that single men made better soldiers, so he forbid men to marry during wartime. However, Bishop Valentine performed secret weddings behind his back. Valentine was finally arrested and then executed for his crime on February 14th.

How did the "X" symbol come to represent a "kiss"?

It started in Medieval times. Most people couldn't write their names, so they signed documents in front of a witness with an "X" and then placed a kiss upon it as a show of their sincerity.

Where did the saying to "wear your heart on your sleeve" come from?

In the Middle Ages, young women and mean drew names from a bowl to select their Valentine. They would then pin that name to their sleeves and wear it for a week before the holiday. And so, they would wear their "heart" on their sleeves.

Were there ever any Valentine's Day superstitions?

Yes, Here's one for the birds. Many years ago, some believed that if a woman saw a robin flying overhead on Valentine's Day, it meant she would marry a sailor. If she saw a sparrow, she would marry a poor man and be very happy. If she saw a goldfinch, she would marry a millionaire.

Back in the 17th century, some young women would eat a hard-boiled egg and pin five bay leaves to their pillows before going to sleep on Valentine's eve. They believed this would make them dream of their future husband.

How much chocolate is purchased in the US for Valentine's Day every year?

Over $1 billion is spent on chocolate, which includes over 35 million heart shaped boxes filled with the sweet confection. Richard Cadbury produced the first box of chocolates for Valentine's Day in 1868..

What other candy is popular for Valentine's Day?

Nearly 8 billion conversation hearts (also known as Sweethearts) are produced by Necco annually. These pastel heart-shaped candies feature at least 10 new sayings stamped onto them every year.

Who buys flowers for Valentine's Day?

Most of the people who purchase flowers are men, who buy 73 percent, while women buy just 27 percent. Another interesting statistic: 15 percent of U.S. women reportedly send flowers to themselves for Valentine's day.

How many roses are sold each year in the U.S. for Valentine's Day?

189 million stems of roses!

Were do those roses come from?

Although California produces 60 percent of American roses, a great percentage of roses sold on Valentine's Day in the US are imported, mostly from South America.

Were roses always the top pick for Valentine sweethearts?

No, about a hundred years ago, the most popular flowers for the holiday were violets, followed by tulips, bleeding hearts and sweet peas.

Do most people give their pets Valentine's Day gifts?

No, only 3 percent of pet owners do. The critters do much better at Christmas, with seven out of ten dogs receiving gifts

How many cards are exchanged in the U.S. for Valentine's Day?

Around 190 million Valentine's Day cards are given every year. That's the largest seasonal card-sending occasion of the year, next to Christmas.

Who receives the most Valentine's Day cards?
Teachers
Children
Mothers
Wives
Sweethearts
Pets
What other historical events happened on Valentine's Day?
1779 - Captain James Cook was killed in Hawaii.
1849 - The first photograph of a U.S. President was taken by Matthew Brady in New York City of President James Polk.
1876 - Alexander Graham Bell applied for his patent on the telephone.
1929 - Valentine's Day Massacre took place in Chicago by Al Capone's gunmen of seven members of the George "Bugs" Moran North Siders gang.
1929 - Penicillin discovered.
1962 - Jackie Kennedy hosted the first televised tour of the White House.
These tips can be used on your website, blog, ezine, etc. AS LONG AS YOU DO NOT MAKE ANY CHANGES AND INCLUDE A LIVE, CLICKABLE CREDIT AND LINK to http://www.photo-party-favors.com
Don't forget to check out our:
Personalized Photo Party Favors


Now, you can follow Photo Party Favors on Facebook and get even more FREE party stuff, available exclusively for our Facebook friends, including party recipes, quotes, trivia, articles, printable candy bar wrappers, more! "Like" us today!
All Designs Copyright - Photo Party Favors 1997-2021