Magnet Categories
2x3 or 3x4 inch

Anniversary Photo Magnets

Baby & Birth Announcement Photo Magnets

Bat Mitzvah, Bar Mitzvah Photo Magnets

Birthday Photo Magnets

Kid's Birthday Photo Magnets

Christening, Communion & Other Christian Photo Magnets

Christmas Photo Magnets

Graduation Photo Magnets

Wedding & Save the Date Photo Magnets

Theme Party Magnets
(sports, luau, Hollywood, more)


Photo Mint Tins:
New Categories!
Sports Theme Photo Mint Tins
(football, baseball, basketball, golf, ice hockey, soccer, skiing, cheerleading, bowling party, more)
Entertainment & Movie Theme Photo Mint Tins
(Oscar party, movie night, marquee, red carpet, guitar, piano, disco ball, city, casino, Las Vegas)
Beach & Luau Theme Photo Mint Tins
(tropical, flip-flops, cruise, mardi gras, fiesta, more)
CHRISTMAS Photo Mint Tins
Seasonal & Other Holiday Mint Tins
(autumn, winter, Halloween, Thanksgiving, New Year's, Valentine's Day, Easter, more)
Testimonials
What people are saying about Photo Party Favors

Fun & Free Stuff
♥
Party Recipes
appetizers dips salsa make-ahead buffet meals
♥
Free Printable Candy Bar Wrappers
♥
Birthday Birthstone Chart & Birth Month Flowers
♥
Anniversary Gifts By Month: Traditional & Modern
♥
Anniversary Quotes & Sayings
♥
Baby Quotes
& Sayings
♥
Birthday Quotes & Sayings (General)

Funny Birthday Sayings & One-Liners
♥
Christening Quotes & Sayings
♥
Christmas Quotes & Sayings (General)
♥
Christian Christmas Quotes & Verses
♥
Graduation Quotes & Sayings
♥
Thank You Quotes & Sayings
♥
Wedding Quotes & Sayings
♥
How to say "Happy Birthday" in other Languages
♥
How to say "I Love You" in other Languages
♥
How to say "Merry Christmas" in other Languages
♥
How to say "Thank You" in other Languages
♥
Fun Birthday Facts & Trivia
♥
Fun Wedding Facts & Trivia
♥
Free Printable Christmas Gift Tags
♥
Class Reunion
Quotes and Sayings


Extra FREE STUFF:
Party ideas & tips, Printables, - Recipes, Holidays, - Quotes, Coupons, - MORE!
for everyone who "likes"
Photo Party Favors on Facebook

www.photo-party-favors.com - Photo Party Favors - PLUS a whole lot more!
Watermelon Cake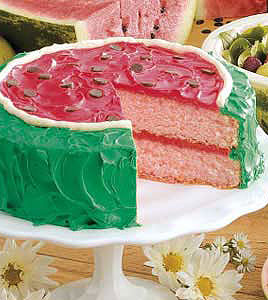 Ingredients

1 package (18-1/4 ounces) white cake mix
1 package (3 ounces) watermelon* (or cherry) gelatin
1-1/4 cups water
2 eggs
1/4 cup canola oil
2-1/2 cups prepared vanilla or cream cheese frosting, divided
Red and green gel food coloring
Chocolate chips

Directions

In a large bowl, combine the cake mix, gelatin, water, eggs and oil; beat on low speed for 30 seconds. Beat on medium for 2 minutes.

Pour into two greased and floured 9-in. round baking pans. Bake at 350° for 30-35 minutes or until a toothpick inserted near the center comes out clean. Cool for 10 minutes before removing from pans to wire racks to cool completely.

Set aside 2 tablespoons prepared favorite vanilla or cream cheese frosting for decorating. Place 1-1/4 cups frosting in a bowl; tint red. Tint remaining frosting green.

Place one cake layer on a serving plate; spread with 1/2 cup red frosting to within 1/4 in. of edges. Top with second cake. Frost top with remaining red frosting to within 3/4 in. of edges. Frost sides and top edge of cake with green frosting.

Cut a 1/4-in. hole in the corner of pastry or plastic bag. Fill the bag with reserved white frosting. Pipe around top edge of cake where green and pink frosting meets. For seeds, insert chocolate chips upside down into cake top.

* Note: Watermelon jello may have only a seasonal availability at your local supermarket, although it seems most Wal-Marts stock in year round. Cherry jello can be used as a substitute, if you can't find the watermelon flavor.





































































































All Designs Copyright - Photo Party Favors 1997-2012
You may not modify, publish, transmit, participate in the transfer or sale of, reproduce, create derivative works from, distribute, display, or incorporate our designs into another web site.