Magnet Categories
2x3 or 3x4 inch

Anniversary Photo Magnets

Baby & Birth Announcement Photo Magnets

Bat Mitzvah, Bar Mitzvah Photo Magnets

Birthday Photo Magnets

Kid's Birthday Photo Magnets

Christening, Communion & Other Christian Photo Magnets

Christmas Photo Magnets

Graduation Photo Magnets

Wedding & Save the Date Photo Magnets

Theme Party Magnets
(sports, luau, Hollywood, more)


Photo Mint Tins:
New Categories!
Sports Theme Photo Mint Tins
(football, baseball, basketball, golf, ice hockey, soccer, skiing, cheerleading, bowling party, more)
Entertainment & Movie Theme Photo Mint Tins
(Oscar party, movie night, marquee, red carpet, guitar, piano, disco ball, city, casino, Las Vegas)
Beach & Luau Theme Photo Mint Tins
(tropical, flip-flops, cruise, mardi gras, fiesta, more)
CHRISTMAS Photo Mint Tins
Seasonal & Other Holiday Mint Tins
(autumn, winter, Halloween, Thanksgiving, New Year's, Valentine's Day, Easter, more)
Testimonials
What people are saying about Photo Party Favors

Fun & Free Stuff
♥
Party Recipes
appetizers dips salsa make-ahead buffet meals
♥
Free Printable Candy Bar Wrappers
♥
Birthday Birthstone Chart & Birth Month Flowers
♥
Anniversary Gifts By Month: Traditional & Modern
♥
Anniversary Quotes & Sayings
♥
Baby Quotes
& Sayings
♥
Birthday Quotes & Sayings (General)

Funny Birthday Sayings & One-Liners
♥
Christening Quotes & Sayings
♥
Christmas Quotes & Sayings (General)
♥
Christian Christmas Quotes & Verses
♥
Graduation Quotes & Sayings
♥
Thank You Quotes & Sayings
♥
Wedding Quotes & Sayings
♥
How to say "Happy Birthday" in other Languages
♥
How to say "I Love You" in other Languages
♥
How to say "Merry Christmas" in other Languages
♥
How to say "Thank You" in other Languages
♥
Fun Birthday Facts & Trivia
♥
Fun Wedding Facts & Trivia
♥
Free Printable Christmas Gift Tags
♥
Class Reunion
Quotes and Sayings


Extra FREE STUFF:
Party ideas & tips, Printables, - Recipes, Holidays, - Quotes, Coupons, - MORE!
for everyone who "likes"
Photo Party Favors on Facebook

www.photo-party-favors.com - Photo Party Favors - PLUS a whole lot more!
Super-Easy Picture Taking Tips For Better Photo Christmas Cards

You don't need an expensive camera, a course in photography or talent to take great pictures for your photo Christmas cards. Just take your point and shoot camera or smart phone, follow these easy tips and you'll be on your way to creating beautiful snapshots.


Keep steady when you press the shutter. The biggest cause of blurry photos is camera shake. To prevent that, you can position yourself with your feet slightly apart and arms tucked into your chest when you gently press the button. Or you can lean on or against something like a wall, back of a chair, car or tree. A tripod or your camera's self-timer can also help make your pictures crisp and clear.


Try taking the photo with the flash OFF and you'll avoid pictures with people with red eyes or squinting (blinded by the flash), not to mention washed out faces.


When taking pictures of people outdoors, choose, if possible, a cloudy overcast day, early morning or late afternoon to avoid shadows on their faces.


Always be aware of your light source. If you sit the kids on the couch in front of the window with light pouring in behind them, the picture will be be overexposed and their faces will be much too dark.


Also, check your background.before taking the snapshot to avoid confusing clutter around the subject or foilage that appears to be sprouting from the top of his or her head. If there's something in the way, either move it or move the location of the photo.


If taking pictures of kids, get down on the floor on their level for a better angle.


Fill the frame. Take a step closer. Close-up photos are more interesting when they show less of the background and more of the person.


Posed pictures are great, but candid photos of your family having fun are even better.


If you do want to use posed photos, try including a prop. It can be anything from a stuffed animal (like a Christmas reindeer) to a guitar for your child who plays or even the family pet - something to focus their attention on - other than having their picture taken.


You can also set up a scene - your kids baking Christmas cookies, decorating the tree or wrapping presents.


Don't wait until the last minute to take your holiday pictures. If you want a Christmas backdrop for your photographs, you don't have to delay taking snapshots until you decorate your tree. Take a trip to the mall in November with your family and camera in tow - the mall should be beautifully decorated right after Halloween, creating a great photo opportunity.


Take a lot of photos - not just two days before you want to place your photo Christmas cards order. Professional photographers will take hundreds of pictures to get one great one. Why should you be any different? Who cares about the 99 bad pictures you took (no one will ever have to see them!), Keep going until you get that great shot. Make it a habit to always have your camera with you.


Remember, just because a photo looks good on the LCD screen in playback mode on your digital camera.or smartphone, doesn't necessarily mean it's a winner. It's hard to adequately determine clarity and brightness of your photo while it is still in your camera, So, before you choose that picture for your photo Christmas cards, upload it to your computer and/or print it as a 4 x 6 inch snapshot and check for quality.


If you're having trouble getting a perfect group family photo, consider using photo Christmas card designs meant to hold multiple photos and then use a separate picture for each member of the family.


Choose the best photo or photos for your Christmas cards. The company that you chose to create them might be able to improve them a little, but blurry pictures can only be sharpened to a certain point.


A unique card design can really compliment your Christmas photo or photos. So, look for something special. Also, it's a good idea to take into consideration the weight and finish of the photo paper the company uses. Finally, personalize it by putting your Christmas message in your own words.
No need to understand terms like aperture and shutter priority to take a great snapshot. Just put these simple tips into practice and you'll soon be producing photo Christmas cards like a pro!


These tips can be used on your website, blog, ezine, etc. AS LONG AS YOU DO NOT MAKE ANY CHANGES AND INCLUDE A LIVE, CLICKABLE CREDIT AND LINK to http://www.photo-party-favors.com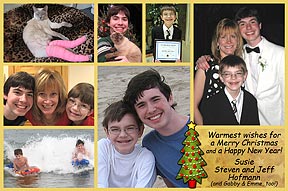 Don't forget to check out our photo holiday cards!

Photo Christmas Cards
Christian Photo Christmas Cards
Photo Hanukkah Cards
All Designs Copyright - Photo Party Favors 1997-2021
You may not modify, publish, transmit, participate in the transfer or sale of, reproduce, create derivative works from, distribute, display, or incorporate our designs into another web site.