Magnet Categories
2x3 or 3x4 inch

Anniversary Photo Magnets

Baby & Birth Announcement Photo Magnets

Bat Mitzvah, Bar Mitzvah Photo Magnets

Birthday Photo Magnets

Kid's Birthday Photo Magnets

Christening, Communion & Other Christian Photo Magnets

Christmas Photo Magnets

Graduation Photo Magnets

Wedding & Save the Date Photo Magnets

Theme Party Magnets
(sports, luau, Hollywood, more)


Photo Mint Tins:
New Categories!
Sports Theme Photo Mint Tins
(football, baseball, basketball, golf, ice hockey, soccer, skiing, cheerleading, bowling party, more)
Entertainment & Movie Theme Photo Mint Tins
(Oscar party, movie night, marquee, red carpet, guitar, piano, disco ball, city, casino, Las Vegas)
Beach & Luau Theme Photo Mint Tins
(tropical, flip-flops, cruise, mardi gras, fiesta, more)
CHRISTMAS Photo Mint Tins
Seasonal & Other Holiday Mint Tins
(autumn, winter, Halloween, Thanksgiving, New Year's, Valentine's Day, Easter, more)
Testimonials
What people are saying about Photo Party Favors

Fun & Free Stuff
♥
Party Recipes
appetizers dips salsa make-ahead buffet meals
♥
Free Printable Candy Bar Wrappers
♥
Birthday Birthstone Chart & Birth Month Flowers
♥
Anniversary Gifts By Month: Traditional & Modern
♥
Anniversary Quotes & Sayings
♥
Baby Quotes
& Sayings
♥
Birthday Quotes & Sayings (General)

Funny Birthday Sayings & One-Liners
♥
Christening Quotes & Sayings
♥
Christmas Quotes & Sayings (General)
♥
Christian Christmas Quotes & Verses
♥
Graduation Quotes & Sayings
♥
Thank You Quotes & Sayings
♥
Wedding Quotes & Sayings
♥
How to say "Happy Birthday" in other Languages
♥
How to say "I Love You" in other Languages
♥
How to say "Merry Christmas" in other Languages
♥
How to say "Thank You" in other Languages
♥
Fun Birthday Facts & Trivia
♥
Fun Wedding Facts & Trivia
♥
Free Printable Christmas Gift Tags
♥
Class Reunion
Quotes and Sayings


Extra FREE STUFF:
Party ideas & tips, Printables, - Recipes, Holidays, - Quotes, Coupons, - MORE!
for everyone who "likes"
Photo Party Favors on Facebook

www.photo-party-favors.com - Photo Party Favors - PLUS a whole lot more!
The Scoop On Save The Date Cards:
What You Need To Know About Save The Dates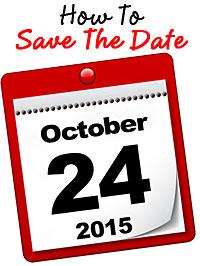 Sending save the date cards is a popular trend. It gives your guests the advanced notice they need to clear their schedule for an important event, such as a:
wedding
bar mitzvah
class reunion
anniversary party
any milestone celebration.
Save the date cards are particularly helpful if you are:
inviting a lot of guests from out of town (so they can make travel arrangements)
setting the event around the holidays or typical peak summer vacation time
having a destination party (requiring guests to work out those plans)
But you can also send save the date cards if you just want to announce the party and make sure you have a good turn-out.

WHEN TO SEND SAVE-THE-DATE CARDS

&nbsp Usually, 4 months - 1 year before your party or event.

Exceptions:
If you a planning a Christmas party, you could send a "save the date" at the beginning of November (to secure you're slot in the heavily competitive holiday season) and follow-up with invitations a month later.
A more casual event - you can mail an official save the date card 1 -2 months before the event, and then later send e-vites, emails or call with the details.
WHAT INFORMATION TO INCLUDE ON SAVE THE DATE CARDS:
The words "Save the Date" to indicate that it's an announcement that does not require a reply.
Occasion - What is the reason for the party, event, celebration?
Name of celebrant if there is a guest (or guests) of honor.
Date - This should be prominently featured.
The phrase "Invitation to follow" (or formal invitation to follow) - to let people know that more details will be on the way.

Optional:
The location - (especially important if it's in an unexpected place).
Website - if you have set up a web page for this occasion with information that you update.
Photo (or photos) - incorporated into the card design of the person or persons being honored.
DO NOT use the words RSVP - it will confuse people into thinking these are invitations.

IMPORTANT - ALWAYS send an actual invitation to everyone who received one of your save the date cards. You don't have to mail save the dates to everyone on your invitation list. But if you send one, you must follow it up with a real invitation.

SAVE THE DATE CARDS THAT STAND OUT

The idea is to grab people's attention, so choose save the dates that will get noticed. Even if the event is formal, your save the date announcements don't need to be. You can choose postcards, photo cards, handmade cards or folding cards. But don't limit yourself to traditional paper announcements. You can select save the date magnets, bookmarks or any other small item that is lightweight and easy to mail.


These tips can be used on your website, blog, ezine, etc. AS LONG AS YOU DO NOT MAKE ANY CHANGES AND INCLUDE A LIVE, CLICKABLE CREDIT AND LINK to http://www.photo-party-favors.com




Don't forget to check out our:
Photo Save The Date Cards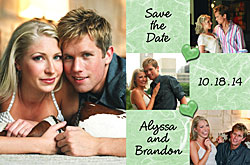 Wedding Photo Save The Date Cards and Photo Bar Mitzvah Save The Date Cards

Or choose any of our invitation designs to adapt as save the dates
or
our magnets, bookmarks, notebooks, etc!
All Designs Copyright - Photo Party Favors 1997-2021
You may not modify, publish, transmit, participate in the transfer or sale of, reproduce, create derivative works from, distribute, display, or incorporate our designs into another web site.