Magnet Categories
2x3 or 3x4 inch

Anniversary Photo Magnets

Baby & Birth Announcement Photo Magnets

Bat Mitzvah, Bar Mitzvah Photo Magnets

Birthday Photo Magnets

Kid's Birthday Photo Magnets

Christening, Communion & Other Christian Photo Magnets

Christmas Photo Magnets

Graduation Photo Magnets

Wedding & Save the Date Photo Magnets

Theme Party Magnets
(sports, luau, Hollywood, more)


Photo Mint Tins:
New Categories!
Sports Theme Photo Mint Tins
(football, baseball, basketball, golf, ice hockey, soccer, skiing, cheerleading, bowling party, more)
Entertainment & Movie Theme Photo Mint Tins
(Oscar party, movie night, marquee, red carpet, guitar, piano, disco ball, city, casino, Las Vegas)
Beach & Luau Theme Photo Mint Tins
(tropical, flip-flops, cruise, mardi gras, fiesta, more)
CHRISTMAS Photo Mint Tins
Seasonal & Other Holiday Mint Tins
(autumn, winter, Halloween, Thanksgiving, New Year's, Valentine's Day, Easter, more)
Testimonials
What people are saying about Photo Party Favors

Fun & Free Stuff
♥
Party Recipes
appetizers dips salsa make-ahead buffet meals
♥
Free Printable Candy Bar Wrappers
♥
Birthday Birthstone Chart & Birth Month Flowers
♥
Anniversary Gifts By Month: Traditional & Modern
♥
Anniversary Quotes & Sayings
♥
Baby Quotes
& Sayings
♥
Birthday Quotes & Sayings (General)

Funny Birthday Sayings & One-Liners
♥
Christening Quotes & Sayings
♥
Christmas Quotes & Sayings (General)
♥
Christian Christmas Quotes & Verses
♥
Graduation Quotes & Sayings
♥
Thank You Quotes & Sayings
♥
Wedding Quotes & Sayings
♥
How to say "Happy Birthday" in other Languages
♥
How to say "I Love You" in other Languages
♥
How to say "Merry Christmas" in other Languages
♥
How to say "Thank You" in other Languages
♥
Fun Birthday Facts & Trivia
♥
Fun Wedding Facts & Trivia
♥
Free Printable Christmas Gift Tags
♥
Class Reunion
Quotes and Sayings


Extra FREE STUFF:
Party ideas & tips, Printables, - Recipes, Holidays, - Quotes, Coupons, - MORE!
for everyone who "likes"
Photo Party Favors on Facebook

www.photo-party-favors.com - Photo Party Favors - PLUS a whole lot more!
Ice Cream Pie Recipe
How To Make A Cookie Crust Ice Cream Pie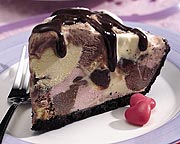 Here's the very basic recipe

1 cookie crust (store-bought or made from scratch - recipe follows)
1 tub ice cream (1 quart - 1/2 gallon)
toppings and/or mix ins

Directions

Soften the ice cream, until it's just soft enough to scoop. Fill prepared pie shell with ice cream. Smooth out the top. Cover lightly. Freeze until firm, at least two hours or overnight. Remove from freezer 15 minutes before serving. Then garnish with desired toppings (whipped cream, chocolate or caramel sauce, magic shell, crushed cookies, fresh fruit, etc.

For ice cream pie flavor combinations and ideas, see below

HOMEMADE COOKIE CRUST

1 1/2 cups fine crumbs (from graham crackers, ginger snaps, vanilla wafers, chocolate cookies, shortbread - any crisp cookie, store-bought or homemade)
1/4 cup granulated sugar
6 tablespoons butter, melted

Crush crumbs in a food processor or the old fashioned way - in a large, heavy-duty resealable bag. (Leave a small opening in the top of the bag to allow air to escape.) Roll a rolling pin over the plastic bag until the cookies are broken into crumbs.

Mix crumbs and sugar together, stir in melted butter. Line pie plate with mixture, pressing firmly into place. Bake at 350 degrees for 8 minutes. Cool thoroughly before adding ice cream.

PRETZEL CRUMB CRUST:

2 cups crushed (very fine) pretzels
1/2 cup melted butter
1/3 cup sugar

Combine all crust ingredients. Press crumbs over bottom and up sides of 9-inch pie plate. Bake for 8-10 minutes. Cool completely.

NO-BAKE OREO CRUST

13 Oreo Cookies, crushed
1/4 cup butter (1/2 stick), melted

Mix Oreos and butter together and firmly press into a 9-inch pie pan over the bottom and all the way up the sides. Chill for 20 minutes to set.


Now, for the fun part. Here's some ideas for combinations to make some show-stopping desserts

ICE CREAM MUD PIE: Oreo crust, coffee ice cream, topped with thick chocolate syrup.

PEACH MELBA ICE CREAM PIE - Nilla wafer crust, peach ice cream, topped with raspberry sauce, garnished with fresh peaches.

BANANA-SPLIT ICE CREAM PIE - Chocolate cookie crust, layer of thinly sliced bananas, followed by strawberry ice cream, freeze - before serving, top with drained crushed pineapple, whipped cream and maraschino cherries.

SNICKERS ICE CREAM PIE - Make chocolate cookie crust, adding 1/4 cup peanuts to the recipe, cool. Mix soften vanilla ice cream with 6 (2 oz) coarsely chopped Snickers bars. Spread ice cream mixture in pie shell, freeze. Before serving, drizzle with chocolate and caramel sauce and top with additonal chopped snickers bars.

LEMONADE ICE CREAM PIE - Mix 1/2 gallon softened vanilla ice cream with a 12-oz can lemonade or limeade, slightly thawed and spread ice cream mixture in a pretzel crust.

PEANUT BUTTER ICE CREAM PIE - Mix 1/2 gallon softened vanilla ice cream with 1 cup peanut butter (smooth or chunky) until combined. Gently swirl in peanut butter chips, fudge chunks and fudge ice cream topping. Spread mixture in chocolate cookie pie shell. When ready to serve, top with chocolate magic shell.

PUMPKIN ICE CREAM PIE - Mix 1/2 gallon softened vanilla ice cream with 1 cup canned pumpkin, 1/2 cup packed brown sugar, 1 teaspoon ground ginger, 1/2 teaspoon ground cinnamon and 1/2 teaspoon ground nutmeg. Spread in a gingersnap cookie crust. Freeze until firm. Garnish with whipped cream.

LAYERED ICE CREAM PIE - Spread 3 cups of any flavor ice cream in prepared pie shell, top with crushed candy, cookie crumbs or ice cream sauce - freeze for 30 minutes. Remove from freezer, spread 3 cups of a different flavor ice cream on top. Refreeze 2 hours - overnight. Some ideas: orange sorbet and vanilla ice cream layers for a creamsicle ice cream pie; or layers of chocolate and coffee ice cream for a mocha ice cream pie. How about chocolate ice cream layered with cherry vanilla ice cream for a chocolate-cherry ice cream pie (garnish with chocolate covered cherries).

Get creative, experiment and make your own spectacular creation!




































































































All Designs Copyright - Photo Party Favors 1997-2011
You may not modify, publish, transmit, participate in the transfer or sale of, reproduce, create derivative works from, distribute, display, or incorporate our designs into another web site.