Magnet Categories
2x3 or 3x4 inch

Anniversary Photo Magnets

Baby & Birth Announcement Photo Magnets

Bat Mitzvah, Bar Mitzvah Photo Magnets

Birthday Photo Magnets

Kid's Birthday Photo Magnets

Christening, Communion & Other Christian Photo Magnets

Christmas Photo Magnets

Graduation Photo Magnets

Wedding & Save the Date Photo Magnets

Theme Party Magnets
(sports, luau, Hollywood, more)


Photo Mint Tins:
New Categories!
Sports Theme Photo Mint Tins
(football, baseball, basketball, golf, ice hockey, soccer, skiing, cheerleading, bowling party, more)
Entertainment & Movie Theme Photo Mint Tins
(Oscar party, movie night, marquee, red carpet, guitar, piano, disco ball, city, casino, Las Vegas)
Beach & Luau Theme Photo Mint Tins
(tropical, flip-flops, cruise, mardi gras, fiesta, more)
CHRISTMAS Photo Mint Tins
Seasonal & Other Holiday Mint Tins
(autumn, winter, Halloween, Thanksgiving, New Year's, Valentine's Day, Easter, more)
Testimonials
What people are saying about Photo Party Favors

Fun & Free Stuff
♥
Party Recipes
appetizers dips salsa make-ahead buffet meals
♥
Free Printable Candy Bar Wrappers
♥
Birthday Birthstone Chart & Birth Month Flowers
♥
Anniversary Gifts By Month: Traditional & Modern
♥
Anniversary Quotes & Sayings
♥
Baby Quotes
& Sayings
♥
Birthday Quotes & Sayings (General)

Funny Birthday Sayings & One-Liners
♥
Christening Quotes & Sayings
♥
Christmas Quotes & Sayings (General)
♥
Christian Christmas Quotes & Verses
♥
Graduation Quotes & Sayings
♥
Thank You Quotes & Sayings
♥
Wedding Quotes & Sayings
♥
How to say "Happy Birthday" in other Languages
♥
How to say "I Love You" in other Languages
♥
How to say "Merry Christmas" in other Languages
♥
How to say "Thank You" in other Languages
♥
Fun Birthday Facts & Trivia
♥
Fun Wedding Facts & Trivia
♥
Free Printable Christmas Gift Tags
♥
Class Reunion
Quotes and Sayings


Extra FREE STUFF:
Party ideas & tips, Printables, - Recipes, Holidays, - Quotes, Coupons, - MORE!
for everyone who "likes"
Photo Party Favors on Facebook

www.photo-party-favors.com - Photo Party Favors - PLUS a whole lot more!
Family Reunion Award Ideas
with FREE Printable Family Reunion Awards Certificate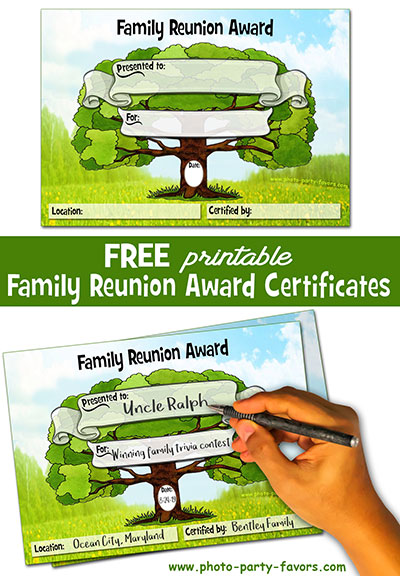 Are you looking for family reunion award certificates for your upcoming family reunion? Well, we have FREE family reunion awards right here for you! You can print as many as you want, with no strings attached (nothing to sign up for - it's a gift for you!)

Just print and fill in these family reunion award certificates with a pen or Sharpie. We've even included over 60 ideas for family reunion award categories to get you started. Scroll down to find the link to the pdf file with the reunion award certificates. Hope you enjoy!


FAMILY RECORDS


Newest Newlyweds
Married the Longest
Most recent baby
Most children
Newest grandparents
Youngest grandparents
Most grandchildren
Oldest family member

CHARACTER AND PERSONALITY


Most supportive
Best motivator
Most organized
Biggest smile
Most contagious laugh
Biggest/kindest heart
Best hugs
Most helpful
Biggest little helper
Most outgoing/friendliest
Family clown
Life of the party
Night owl (who stays up the latest?)
Early bird (who gets up first?)

JOB


Most dangerous job
Most exciting (or interesting/unusual job)
Most heroic jobs (honor military, medical, first responders)

APPEARANCE


Most gray hair
Least hair
Most hair
Biggest, bushiest beard
Lost most weight
Biggest beer belly
Most youthful looking
Most muscular
Most athletic
Most tattoos
Tallest
Shortest
Best dressed

TALENTS AND ABILITIES


Winner (of any reunion game)
Best cook/baker/potluck dish
Family talent show winner
Best dancer
Most creative/artistic
Funniest jokes
Fastest swimmer, runner, etc
Strangest hobby
Most profitable hobby

LIFESTYLE


Most pets
Most unusal pet
Most twitter/facebook/instagram followers
Luckiest (did a family member win something?)
Beat the odds (honor family members who overcame real obstacles)
Biggest news of the year

LOCATION


Traveled longest distance to the reunion
Lived in the most places
Lived in the most exotic (or unusual place)
Most traveled (who has the most frequent flier miles?)

AT THE REUNION


Funniest reunion moment
Most touching reunion moment
Most surprising reunion moment

SPECIAL THANKS


Reunion contributors (for everyone who worked hard to organize and make the family reunion a success)
Family historian (for anyone doing geneology research and working on the family tree)

OTHER


Use your imagination. The nice thing about blank family reunion award certificates is that you can make up an award as the situation arises. Did Uncle George tell scary ghost stories one night? Then create a "Best Ghost Story" award. Did a bunch of family members take humorous selfies? Then make a "Silliest Selfie" award.


DOWNLOAD FREE PRINTABLE FAMILY REUNION CERTIFICATE
Print this 5 x 7 inch pdf, trim edges (there are 2 on the page, so cut to separate), then fill in the blanks with a pen or Sharpie. For best results, print on coated inkjet cardstock (such as Epson Premium Presentation Paper). Present to family members as is, rolled up (diploma style) or framed (a dollar store is a good source of inexpensive frames).


These family reunion award ideas and family reunion award certificate can be shared on Pinterest or Facebook - or used on your website, blog, ezine, etc. AS LONG AS YOU DO NOT MAKE ANY CHANGES AND INCLUDE A LIVE, CLICKABLE CREDIT AND LINK to http://www.photo-party-favors.com





DON'T FORGET TO CHECK OUT OUR FAMILY REUNION FAVORS!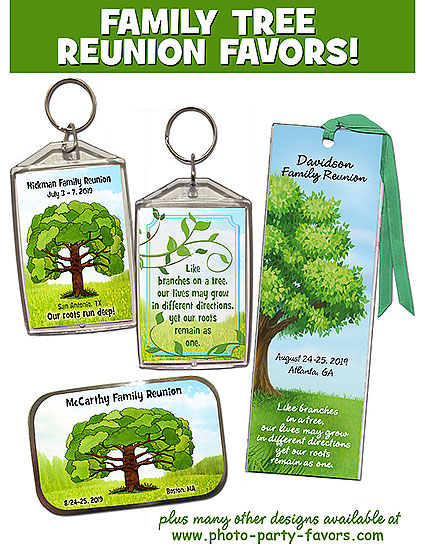 Family Reunion Favors - These Family Tree reunion favors are available as bookmarks, double-sided keychains, mint tins, magnets and save the date cards (bookmarks, keychains, mint tins pictured here). Even, better, these favors coordinate with your free, printable family reunion award certificates! Plus, we have many more family reunion favors designs from which to choose.

All our designs are original, contain your personalized message and maybe even a great family reunion quote. If you are looking for unique, inexpensive favors to give as keepsakes and souvenirs at your family reunion, we invite you to browse through our collection, which you can find by clicking here.


All Designs Copyright - Photo Party Favors 1997-2021
You may not modify, publish, transmit, participate in the transfer or sale of, reproduce, create derivative works from, distribute, display, or incorporate our designs into another web site.