Magnet Categories
2x3 or 3x4 inch

Anniversary Photo Magnets

Baby & Birth Announcement Photo Magnets

Bat Mitzvah, Bar Mitzvah Photo Magnets

Birthday Photo Magnets

Kid's Birthday Photo Magnets

Christening, Communion & Other Christian Photo Magnets

Christmas Photo Magnets

Graduation Photo Magnets

Wedding & Save the Date Photo Magnets

Theme Party Magnets
(sports, luau, Hollywood, more)


Photo Mint Tins:
New Categories!
Sports Theme Photo Mint Tins
(football, baseball, basketball, golf, ice hockey, soccer, skiing, cheerleading, bowling party, more)
Entertainment & Movie Theme Photo Mint Tins
(Oscar party, movie night, marquee, red carpet, guitar, piano, disco ball, city, casino, Las Vegas)
Beach & Luau Theme Photo Mint Tins
(tropical, flip-flops, cruise, mardi gras, fiesta, more)
CHRISTMAS Photo Mint Tins
Seasonal & Other Holiday Mint Tins
(autumn, winter, Halloween, Thanksgiving, New Year's, Valentine's Day, Easter, more)
Testimonials
What people are saying about Photo Party Favors

Fun & Free Stuff
♥
Party Recipes
appetizers dips salsa make-ahead buffet meals
♥
Free Printable Candy Bar Wrappers
♥
Birthday Birthstone Chart & Birth Month Flowers
♥
Anniversary Gifts By Month: Traditional & Modern
♥
Anniversary Quotes & Sayings
♥
Baby Quotes
& Sayings
♥
Birthday Quotes & Sayings (General)

Funny Birthday Sayings & One-Liners
♥
Christening Quotes & Sayings
♥
Christmas Quotes & Sayings (General)
♥
Christian Christmas Quotes & Verses
♥
Graduation Quotes & Sayings
♥
Thank You Quotes & Sayings
♥
Wedding Quotes & Sayings
♥
How to say "Happy Birthday" in other Languages
♥
How to say "I Love You" in other Languages
♥
How to say "Merry Christmas" in other Languages
♥
How to say "Thank You" in other Languages
♥
Fun Birthday Facts & Trivia
♥
Fun Wedding Facts & Trivia
♥
Free Printable Christmas Gift Tags
♥
Class Reunion
Quotes and Sayings


Extra FREE STUFF:
Party ideas & tips, Printables, - Recipes, Holidays, - Quotes, Coupons, - MORE!
for everyone who "likes"
Photo Party Favors on Facebook

www.photo-party-favors.com - Photo Party Favors - PLUS a whole lot more!
50+ Ideas For Class Reunion Awards
with Free Printable Class Reunion Awards Certificate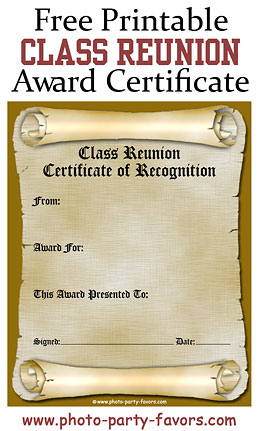 Class reunion awards are always a fun part of the festivities. We've assembled a big list of ideas for possible awards you could give out at your class reunion - with some tips. Plus, we've included a bonus free certificate you can print for all your class reunion awards.


REUNION ORIENTED AWARDS


First to register
Last to register
Hardest person to find
Attended all of the previous reunions

LOCATION


Farthest traveled to the reunion
Lives the closest to the school (least distance traveled)
Lived in the most places
Lived in the most exotic (or unusual place)
Most traveled

RELATIONSHIPS


Newest Newlywed
Married the Longest
Classmates who married another classmate
Newest mother-in-law/father-in-law
Woman with the youngest husband
Most Eligible Bachelor
Most Eligible Bachelorette

FAMILY


Most recent baby
Most kids
Oldest child
Special award for parents of twins or triplets
First to have all their children married
Most recent grandparent

EDUCATION


Most or highest degrees
Never left school (became a teacher!)

JOB


Most dangerous job
Most exciting (or interesting/unusual job)
Most jobs since high school
Least surprising career choice

APPEARANCE


Most gray hair
Least hair
Still the same hair style from high school
Mr. Workout (Man voted to be in best shape)
Ms. Fitness (Woman voted to be an expert exercizer)
Most youthful looking
Lost most weight
Biggest beer belly
Celebrity Look-Alike (Classmate that resembles someone famous)

CHANGE


Most changed
Least changed (Timeless!)
Still Class Clown after all these years
Still Big Flirt after all these years

LIFESTYLE


Most tatoos
Most body piercing
Most Twitter followers
Best FaceBook page
Most pets
First to retire
Biggest lottery winner
Most famous (if attendee is noteworthy)
Beat the Odds (honor classmates that overcame real obstacles)
Served Our Country - honor classmates who were or are in the military
Hero (or Humanitarian) Award (include all those involved in community service personally and professionally),
CLASS REUNION AWARDS TIPS
How do you figure out who should win?
Use your registration forms. Pack them with all kinds of questions. Once you collect all the information, it will be easy to figure out who wins the award for categories such as First to Register, Traveled the Farthest, Most Children, Married the Longest, First to Retire, Served our Country, etc.


Make judgement calls. The reunion committee can take a vote to determine who they think is the Most Changed, Most Youthful Looking, Still Class Clown, etc.


Ask candidates to nominate themselves. If you are presenting awards for things like "Least Hair" and "Biggest Beer Belly", some people might be sensitive about their baldness or weight. So, announce the category and let any classmates that want to enter go to the front and the audience can vote with their cheers and applause. This kind of audience participation can be a lot of fun (and you don't run the risk of embarassing anyone!)


Should you give a prize?
If it's not in your budget, you can just present your classmates with one of our printed class reunion awards certificates. But many high school reunions give a certificate with additonal prizes.


Practical Prizes - These are more like a gift and usually cost more. You could give every winner a bottle of wine. Or you could choose a gift certificate to a restaurant (a nation-wide chain is best), Starbucks or Dunkin Donuts. If your reunion has some nice table decorations, you can give away the centerpieces. Another idea would be to present the award winners with a music CD compilation of hits from your graduating year.


Funny Prizes - Make a trip to the dollar store and let your imagination run wild. Here's some examples of gag gifts:

least hair - giant comb
most kids - aspirin and earplugs
lives closest to school - world map or travel book
most grandchildren - brag photo album or coloring books
first to retire - golf balls
DOWNLOAD FREE PRINTABLE CLASS REUNION CERTIFICATE

Instructions: Print this 8 x 10 inch pdf, trim edges, fill in the blanks. For best results, print on coated inkjet cardstock (such as Epson Premium Presentation Paper). Present to classmates as is, rolled up (diploma style) or framed.


These tips and class reunion award certificate can be shared on Pinterest or Facebook - or used on your website, blog, ezine, etc. AS LONG AS YOU DO NOT MAKE ANY CHANGES AND INCLUDE A LIVE, CLICKABLE CREDIT AND LINK to http://www.photo-party-favors.com





DON'T FORGET TO CHECK OUT OUR CLASS REUNION FAVORS!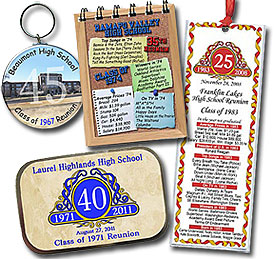 Class Reunion Favors - If you're planning a class reunion, you may be looking for ideas for class reunion favors for your classmates that will be the hit of the party. Our high school reunion favors are conversation starters at your reunion and keepsakes afterwards! We have personalized bookmarks, notebooks, mint tins, key chains, magnets, buttons and pocket mirrors. We can customize them with your school colors and even include a photo of your old high school. Many of our class reunion favors contain fun facts from the year you graduated for a fun trip down memory lane!

Reunion Save The Date Cards are also available!
All Designs Copyright - Photo Party Favors 1997-2021
You may not modify, publish, transmit, participate in the transfer or sale of, reproduce, create derivative works from, distribute, display, or incorporate our designs into another web site.