Magnet Categories
2x3 or 3x4 inch

Anniversary Photo Magnets

Baby & Birth Announcement Photo Magnets

Bat Mitzvah, Bar Mitzvah Photo Magnets

Birthday Photo Magnets

Kid's Birthday Photo Magnets

Christening, Communion & Other Christian Photo Magnets

Christmas Photo Magnets

Graduation Photo Magnets

Wedding & Save the Date Photo Magnets

Theme Party Magnets
(sports, luau, Hollywood, more)


Photo Mint Tins:
New Categories!
Sports Theme Photo Mint Tins
(football, baseball, basketball, golf, ice hockey, soccer, skiing, cheerleading, bowling party, more)
Entertainment & Movie Theme Photo Mint Tins
(Oscar party, movie night, marquee, red carpet, guitar, piano, disco ball, city, casino, Las Vegas)
Beach & Luau Theme Photo Mint Tins
(tropical, flip-flops, cruise, mardi gras, fiesta, more)
CHRISTMAS Photo Mint Tins
Seasonal & Other Holiday Mint Tins
(autumn, winter, Halloween, Thanksgiving, New Year's, Valentine's Day, Easter, more)
Testimonials
What people are saying about Photo Party Favors

Fun & Free Stuff
♥
Party Recipes
appetizers dips salsa make-ahead buffet meals
♥
Free Printable Candy Bar Wrappers
♥
Birthday Birthstone Chart & Birth Month Flowers
♥
Anniversary Gifts By Month: Traditional & Modern
♥
Anniversary Quotes & Sayings
♥
Baby Quotes
& Sayings
♥
Birthday Quotes & Sayings (General)

Funny Birthday Sayings & One-Liners
♥
Christening Quotes & Sayings
♥
Christmas Quotes & Sayings (General)
♥
Christian Christmas Quotes & Verses
♥
Graduation Quotes & Sayings
♥
Thank You Quotes & Sayings
♥
Wedding Quotes & Sayings
♥
How to say "Happy Birthday" in other Languages
♥
How to say "I Love You" in other Languages
♥
How to say "Merry Christmas" in other Languages
♥
How to say "Thank You" in other Languages
♥
Fun Birthday Facts & Trivia
♥
Fun Wedding Facts & Trivia
♥
Free Printable Christmas Gift Tags
♥
Class Reunion
Quotes and Sayings


Extra FREE STUFF:
Party ideas & tips, Printables, - Recipes, Holidays, - Quotes, Coupons, - MORE!
for everyone who "likes"
Photo Party Favors on Facebook

www.photo-party-favors.com - Photo Party Favors - PLUS a whole lot more!
Birthday Trivia Game:
How To Create A FUN Party Game,
Personalized With Trivia From The Guest Of Honor's Life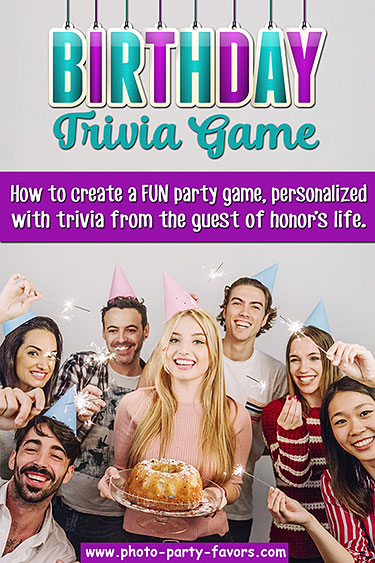 How do you honor someone special, who is celebrating a milestone birthday, and also entertain your guests at the same time? It's easy! Just create a personalized trivia party game with questions that focus attention on the guest of honor's history, personality and interests. Here's nine simple steps to get you there.

GATHER TRIVIA

1. Start a basic list of questions. You will want to discover the things your guest of honor likes the most. Write down his or her FAVORITES:
color
movies
TV shows
songs
food
restaurant
store
vacation destination
hobbies
You can break it down further by getting even more specific. For example, in the food category, you could ask for his or her favorite fruit, ice cream flavor, candy bar, Chinese food, hamburger chain and Italian dish.

Include some important FIRSTS on the list. You could ask what was his or her first:
job
address
girl or boyfriend
pet
first time voting.
Look into the guest of honor's childhood:
what did he want to be when he grew up?
who was his best friend as a child?
was he in a school play or involved in extra-cirricular activities?
was he active in sports?
what was his favorite subject in school?
who was his favorite teacher?
Do some name-dropping. List:
two co-workers
best man or maid of honor
middle name
2. Go to the source for answers. If you want to make sure your answers are accurate, ask the person who has lived it. Unless it's a surprise party, you can interview the guest of honor to get all the facts. Ask him or her specific questions, then encourage those answers to develop into stories. Take notes and pick out interesting tidbits to include in your quiz.

3. Get a different perspective. Ask a close friend or relative to reminisce about the birthday boy or girl. They may come up with little known details about the person. Keep in mind, if you're getting the story second-hand, it might be a good idea to check the information with the celebrant.

4. Edit out any question that could embarrass the guest of honor. The idea is to recognize the celebrant for their personality, accomplishments and way of life, without making them feel uncomfortable, revealing secrets or stirring up unpleasant memories.

5. Make it even more interesting with photos. Show a picture of the celebrant's cherished childhood pet and ask for the name of that dog. Present a snapshot of the old family house and quiz your guests on the street name. Look through old photographs for ideas for questions.

BUILD THE GAME

When you have gathered all the trivia and fun facts about the guest of honor, it's time to create the game for the party.

6. Format your questions. Use a combination of multiple choice, true or false and fill in the blank.

Multiple Choice: For example, you found out that Fred was born at Margaret Hague Maternity Hospital.
You could ask: "What was the name of the hospital where Fred was born?
a - Jersey City Medical Center
b - Margaret Hague Maternity Hospital or
c - St. Francis Hospital?".

True or False: You can be more imaginative with true or false, because you can make up things that will have a false answer. For instance, "True or false, when Mary was a little girl, she had a pet guinea pig?" If a guest correctly answers false, you can give them extra points if they know she actually cared for a hamster.

Fill in the blank: You don't give guests a choice with these questions. Instead you ask them to supply the answer. For example:
What is Jennifer's favorite ice cream topping _____?
What college did Paul attend_____?
Where did Rose meet her husband______?
7. Rearrange your questions. Begin with the easiest ones that would be common knowledge for most of the guests. If nearly everyone at the party knows the answers, it will build confidence. Then once the group feels comfortable answering, increase the difficulty to make it more challenging.

8. Decide how to play this birthday party game. You can put each question on a separate piece of paper and let individuals draw a question and answer. Another option is to just read each one and let anyone shout out a response. Or you can play by making teams and doing it like a game show, such as "Family Feud".

9. Pick a prize. Even if you award just a small token, it will liven up the competition at the birthday party. You might want to make it also tie into one of the guest of honor's interests. How about sharing a DVD of his or her favorite movie, a gift card to their preferred restaurant or a book about one of their hobbies?

It's easy to create a personalized trivia contest based on the guest of honor's life. Your crowd will have fun with this lively party game and maybe even learn something new about the celebrant. The birthday boy or girl will feel honored by the attention that is focused on his or her history and uniqueness. And it will help make this milestone birthday an event to remember.




These tips can be used on your website, blog, ezine, etc. AS LONG AS YOU DO NOT MAKE ANY CHANGES AND INCLUDE A LIVE, CLICKABLE CREDIT AND LINK to http://www.photo-party-favors.com and credit Linda Kling as the author.




Don't forget to check out our:
"Your Trivia" Birthday Photo Party Favors
personalized with your list of favorites & fun facts about the guest of honor!

Makes a great addition to your Birthday Trivia Game!
Click here for more designs and information for "Your Trivia" birthday favors.
All Designs Copyright - Photo Party Favors 1997-2021
You may not modify, publish, transmit, participate in the transfer or sale of, reproduce, create derivative works from, distribute, display, or incorporate our designs into another web site.