Magnet Categories
2x3 or 3x4 inch

Anniversary Photo Magnets

Baby & Birth Announcement Photo Magnets

Bat Mitzvah, Bar Mitzvah Photo Magnets

Birthday Photo Magnets

Kid's Birthday Photo Magnets

Christening, Communion & Other Christian Photo Magnets

Christmas Photo Magnets

Graduation Photo Magnets

Wedding & Save the Date Photo Magnets

Theme Party Magnets
(sports, luau, Hollywood, more)


Photo Mint Tins:
New Categories!
Sports Theme Photo Mint Tins
(football, baseball, basketball, golf, ice hockey, soccer, skiing, cheerleading, bowling party, more)
Entertainment & Movie Theme Photo Mint Tins
(Oscar party, movie night, marquee, red carpet, guitar, piano, disco ball, city, casino, Las Vegas)
Beach & Luau Theme Photo Mint Tins
(tropical, flip-flops, cruise, mardi gras, fiesta, more)
CHRISTMAS Photo Mint Tins
Seasonal & Other Holiday Mint Tins
(autumn, winter, Halloween, Thanksgiving, New Year's, Valentine's Day, Easter, more)
Testimonials
What people are saying about Photo Party Favors

Fun & Free Stuff
♥
Party Recipes
appetizers dips salsa make-ahead buffet meals
♥
Free Printable Candy Bar Wrappers
♥
Birthday Birthstone Chart & Birth Month Flowers
♥
Anniversary Gifts By Month: Traditional & Modern
♥
Anniversary Quotes & Sayings
♥
Baby Quotes
& Sayings
♥
Birthday Quotes & Sayings (General)

Funny Birthday Sayings & One-Liners
♥
Christening Quotes & Sayings
♥
Christmas Quotes & Sayings (General)
♥
Christian Christmas Quotes & Verses
♥
Graduation Quotes & Sayings
♥
Thank You Quotes & Sayings
♥
Wedding Quotes & Sayings
♥
How to say "Happy Birthday" in other Languages
♥
How to say "I Love You" in other Languages
♥
How to say "Merry Christmas" in other Languages
♥
How to say "Thank You" in other Languages
♥
Fun Birthday Facts & Trivia
♥
Fun Wedding Facts & Trivia
♥
Free Printable Christmas Gift Tags
♥
Class Reunion
Quotes and Sayings






























































































































www.photo-party-favors.com - Photo Party Favors - PLUS a whole lot more!
Fun Thanksgiving Facts and Trivia
Thanksgiving Food Facts
The average person consumes 3,000 calories at Thanksgiving dinner.


91% of Americans eat turkey on Thanksgiving Day.


Approximately 280 million turkeys are sold in the U.S. for the Thanksgiving holiday.


There is no real official reason that turkey is served for Thanksgiving. The tradition started because they just happened to be the most plentiful meat available at the time of the first Thanksgiving.


Cranberries are so popular on this holiday, that 20 per cent of all the cranberries consumed in a year are eaten on Thanksgiving day.


The cranberry was originally called a crane berry, That's because the Pilgrims thought it resembled a crane with its pink blossoms and drooping head.


Native Americans did not eat cranberries, but used them to dye fabric and decorate pottery.


Love pumpkin pie? Well, you're not alone. Over 50 million of these pies are eaten on this holiday.


People like green bean casseroles, too - there are over 40 million served at Thanksgiving dinner.


Turkey Facts
Benjamin Franklin wanted the national bird to be a turkey (instead of the bald eagle).


Not all turkeys can gobble. The female turkey makes a clicking noise. It's the male turkey that makes the famous gobble sound.


Columbus, still thinking he had discovered a land connected to India, named turkeys "tuka", which means peacock in the Tamil language of India. (Turkeys are actually a kind of pheasant.)


George H. W. Bush began the first official turkey pardoning in 1989. But presidents over the years have also periodically engaged in this practice.


All the pardoned turkeys, since 1989, have been sent to a Virginia petting zoo in Frying Pan Park.


Thanksgiving Travel Facts
Over 42 million people in the U.S. will drive more than 50 miles from home to be with family or friends on the Thanksgiving holiday.


The average long-distance trip for a Thanksgiving gathering is 214 miles.


Nearly 3 1/2 million people choose to fly and almost another million travelers take buses or trains to reach their holiday destination.


Thanksgiving History Facts
The Mayflower's voyage took 64 days to complete.


The first Thanksgiving was attended by 52 Mayflower pilgrims, including John Alden, William Bradford, Priscilla Mullins, and Miles Standish.


Approximately 50 Wampanoag Native-American Indians attended the first Thanksgiving. Among them was Massasoit and Squanto (the Pilgrim's translator).


Pilgrims did not wear buckles on their hats.


Thomas Jefferson thought the concept of Thanksgiving was "the most ridiculous idea Iíve ever heard."


Sarah Joseph Hale, the woman who wrote ďMary had a Little LambĒ, campaigned for years to make Thanksgiving a national holiday. She spent 36 years writing letters to presidents and congressmen and in 1863, she persuaded Abraham Lincoln to officially recognize the tradition.


It was not, however, until 1941, that congress declared Thanksgiving as a national holiday.


The Canadian version of Thanksgiving is celebrated on the second Monday in October in that country.


Thanksgiving Football Facts
The first radio broadcast of a Thanksgiving Day football game was on November 29, 1934 between the Detroit Lions and the Chicago Bears.


The first television broadcast of a Thanksgiving Day football game was in 1956.


The Thanksgiving Classic is a series of 3 NFL games played every Thanksgiving day since the league began in 1920. Each year, the Dallas Cowboys and Detroit Lions play separate games. Since 2006, a third game has been added, being played by any two teams in the league.


Thanksgiving Parade Facts
The nation's oldest Thanksgiving Day parade started in Philadelphia. It happened in 1920, when Gimbels department store organized a parade of around fifty people, including Santa Claus at the end.


In 1924 Macy's Thanksgiving Day Parade (originally called Macy's Christmas Parade) debuted. It consisted of bands, floats and five animals borrowed from the Central Park Zoo.


The first appearance of a large, inflated animal shaped balloon at the Macy's Parade was Felix the Cat in 1927. The balloon that has appeared in the parade over the years more often than any other character is Snoopy.




Don't forget to check out our:
Photo Christmas Cards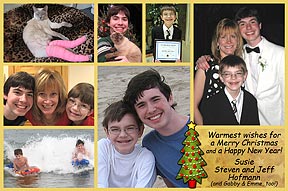 Also available Christian Photo Christmas Cards and Photo Hanukkah Cards

Now, you can follow Photo Party Favors on Facebook and get even more FREE party stuff, available exclusively for our Facebook friends, including party recipes, quotes, trivia, articles, printable candy bar wrappers, more! "Like" us today!
All Designs Copyright - Photo Party Favors 1997-2021